The best mortgage calculator in Denmark
Denmark, as we all know, is one of the gorgeous cities in the continent of Europe. Vibrant and bright, the nation has beautiful scenery, sea coasts, thriving culture, industries, and proper healthcare systems. Oh! And when it comes to being listed in the happiness index, the country always secures a top place for itself.
Thus, it's time to buy a property with excellent mortgage rates for all those aiming to settle down in this rural country. However, to make sure that you avoid a roller-coaster ride in the Danish Market, the blog below will help you leaf through the various online mortgage loan for interested buyers.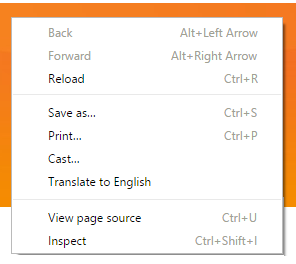 TIP:
when you land on a Danish website that offers mortgages, make a right mouse-click anywhere on the page (Only works with Google Chrome browser!). A small dropdown menu will appear and then it will say; "translate this page to English" (or any other preferred language). This will make it better understandable and easier for you to make the right decision!
One of the best mortgage providers in Denmark: Mybanker.dk
Mybanker.dk is a completely digital mortgage comparison enginge that helps you to get control of your personal finances. They compare mortgages from different banks for you free of charge. See what loan options their partner banks have and get more offers with an application oday, an average household can save over DKK 10,000 per by moving their mortgage to Mybanker.dk. Moving your mortgage is easy because Mybanker.dk takes care of all the work. They also have a great customer satisfaction ratio according to Trustpilot. Feel free to check the website if you want to apply for a new mortgage.
What is a mortgage calculator, and why is it needed?
Well, firsts thing first, before you get all ecstatic about buying a property in Denmark, it is essential to know the mortgage system. For starters, the mortgage calculator, Denmark, is one of the prerequisites before investing money in a property. Why? Let us know the reasons.
One of the prime differences between investing in Denmark and other countries is that the mortgage loan schedule here has an altogether different story. Most of the time, you would see that Danish real estate is quite fast-paced and unpredictable.
But that shouldn't weigh you down as the market here is also blessed with other things. From financial stability, interest rates, and early payments, are some crucial aspects that you won't find anywhere else. Thus as a smart buyer, do not ever hesitate to use the best online mortgage calculator when investing in a property.
How can having a mortgage calculator help?
Irrespective of whether you are an experienced individual or just a starter, a mortgage calculator helps you to figure out whether or not you can afford the investment. The calculator also helps you see what will be the monthly installment and helps you keep a tab on your budget.
Getting a mortgage in Denmark can be quite tricky. The financial institutions in and around the country follow a match-funding principal and grant mortgages by issuing or selling covered bonds. Other than this, there are several benefits to the home buyers in the country:
Competitive rate of interest.
A transparent pricing system.
Repayment of the mortgage without any penalty
Mortgage loan term of 30 years.
No termination of loans unless and until the payee defaults it.
What is the process of buying real estate in Denmark?
If you do not have any prior experience buying real estate, it will be fairly tricky for you to forge ahead in the sector. However, in Denmark, the mortgage loan schedule and other factors make it easy for interested buyers. All you have to know is that there are specific steps individuals have to adhere to:
Apply and get mortgage approved quickly:
One of the prime steps to cover is applying for a mortgage when you are all decided to buy a house. Do not wait until you have found your dream home; instead, walk to a bank and determine how much amount you can borrow.
This will help you get clarity throughout the hunting process and make your home buying journey easy. However, the thin line to focus on here is to be aware of the overall financing process depending on your citizenship. If you belong to European Union, then the down payment varies by 5%, while for a Non-EU citizen, the down payment is 10-40%.
Find the right home:
After you have sailed through the loan process, it is time to source for a dream home. Always remember to keep all these points in mind, which include infrastructure, schooling, grocery, and daycare opportunities.
Once the ideal property is finalized, you can discuss the rest, like savings, and then seal the deal.
Review purchase documents:
After everything is finalized, the last step is to scan all the purchase documents either independently or with the help of a lawyer. Finally, when all the documents are read and approved, they can be sent to the registry court, after which you will become the new owner of the house.
What to do when buying an apartment?
Once you have made your mind to buy a property in Denmark and all the loans and other issues are sorted out, the next thing is to inspect it carefully. Many times it is seen that the seller puts forth a hunky-dory description of the house. But do not fall for it.
Check out the property by yourself or ask your friends to do it for you. In this way, you can look at the damage, deficiencies and make a full survey of your home before moving in permanently.
What are the other things to keep in mind?
Besides all the recurring monthly payments, there are other expenses to take into account. These include the commitment fee, the overall cost of registering your mortgage, and refinancing other expenses.
Also, another thing to remember is that mortgage loans in Denmark are based on callable bonds. This means you can terminate the loans at par value and have an alternative purchasing for funds. While all these seem like small points, they are essential to keep in mind too. Thus, before you venture out to buy a house, do adhere to these points for a better deal.
Conclusion
Moving or relocating to another country is a big step. You have to almost wind things up in your native place and move abroad. But with the help of this guide here, getting a mortgage in Denmark will become relatively easy.
You don't have to worry about the additional things; just get straight and work things out in the finance part, which leads straight to your home. Apart from that, using a mortgage calculator can help you see the loan's affordability and make sure that you settle down in the country easily without any additional issues.